Immediate implant placement and loading with Nobel Biocare N1™ system
Dr. Renaud Noharet
Patient: 30 years old, female.
Clinical situation: Crack in radicular part of second premolar in upper jaw (FDI system 15).
Surgical solution: Immediate placement and immediate loading with N1 implant system.
Restorative solution: Universal Base on Nobel Biocare N1 Base Xeal™ TCC.
Surgery date: September 9, 2020
Total treatment time: 1 year
Tooth position: 15 (FDI system)
Case courtesy of Dr. Renaud Noharet.
Some products may not be regulatory cleared/released for sale in all markets.
Please use landscape mode when viewing this page on mobile.
Initial clinical situation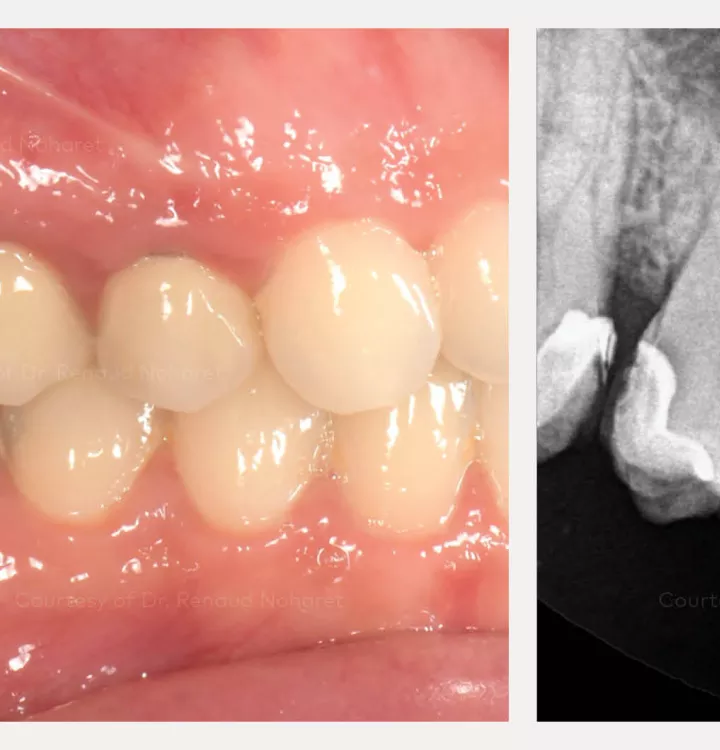 Intraoral situation (left).
Initial X-ray (right).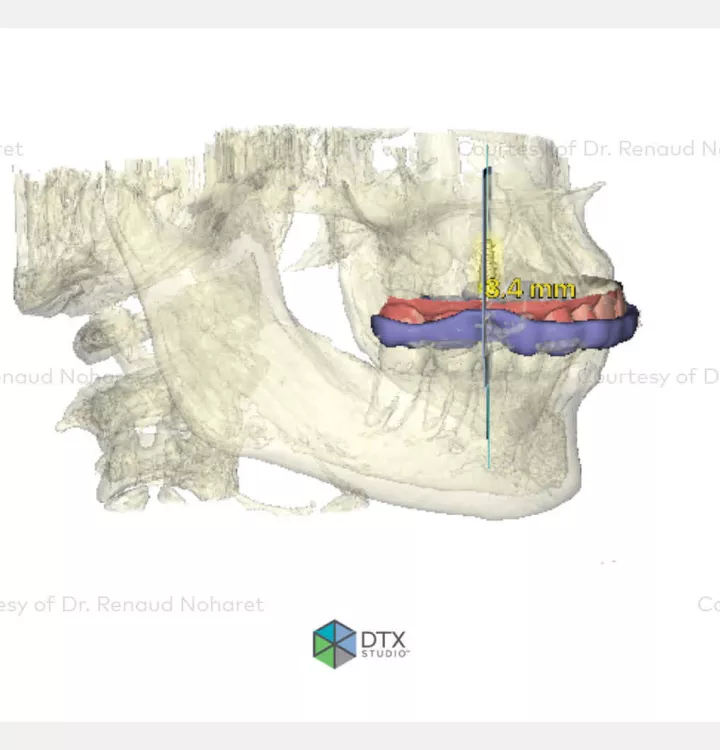 Planning with DTX Studio™ Implant software. Intraoral scan from 3Shape TRIOS® intraoral scanner. Guide from Nobel Biocare.
Extraction socket (tooth position 15 FDI system) (left).
First drill (2 mm diameter) above the guide (right).
OsseoDirector™ to define the final implant position. The sharp design of the OsseoDirector tip supports bone engagement and the tapered body allows changes in direction while cutting the pilot osteotomy (left).
OsseoShaper™ 1 site preparation tool before its insertion. It operates at low speed (50 rpm) with minimized noise and vibration (right).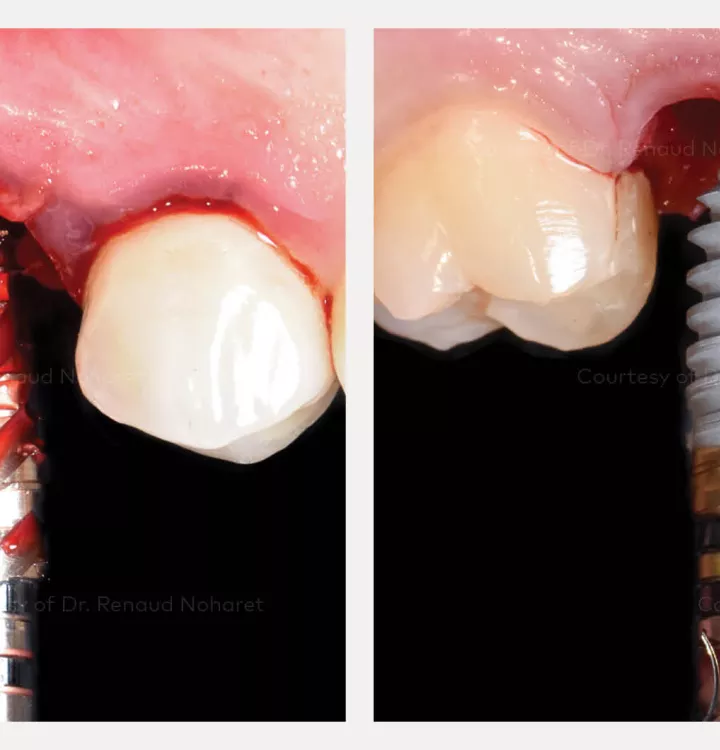 OsseoShaper 1 freshly removed from the site. Note the bone chips and osseous coagulum are retained in the osteotomy and threads of the instrument (left).
Nobel Biocare N1 TiUltra™ TCC RP 4.0 x 11 mm (right).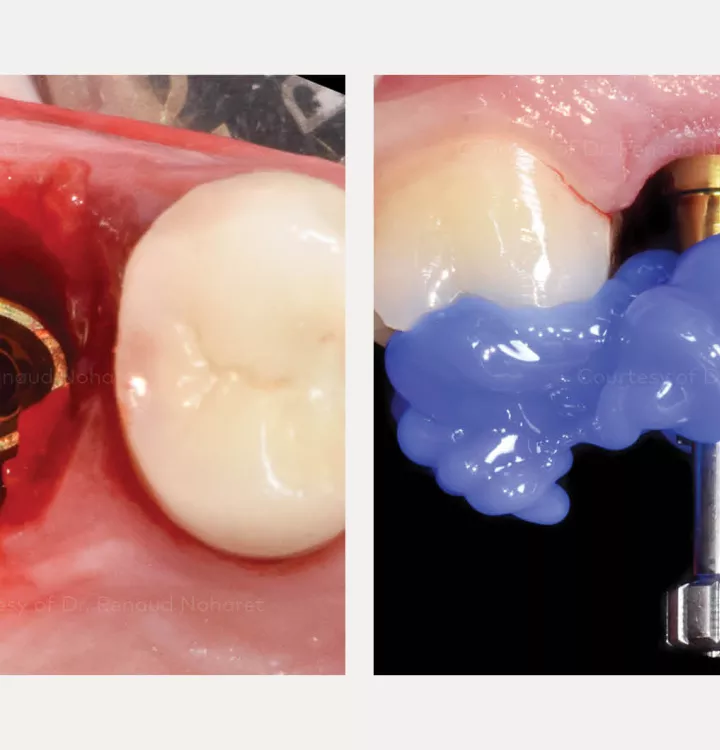 Occlusal view after implant insertion. The flat side of the trioval implant neck faces buccally (left).
Local impression for immediate restoration (right).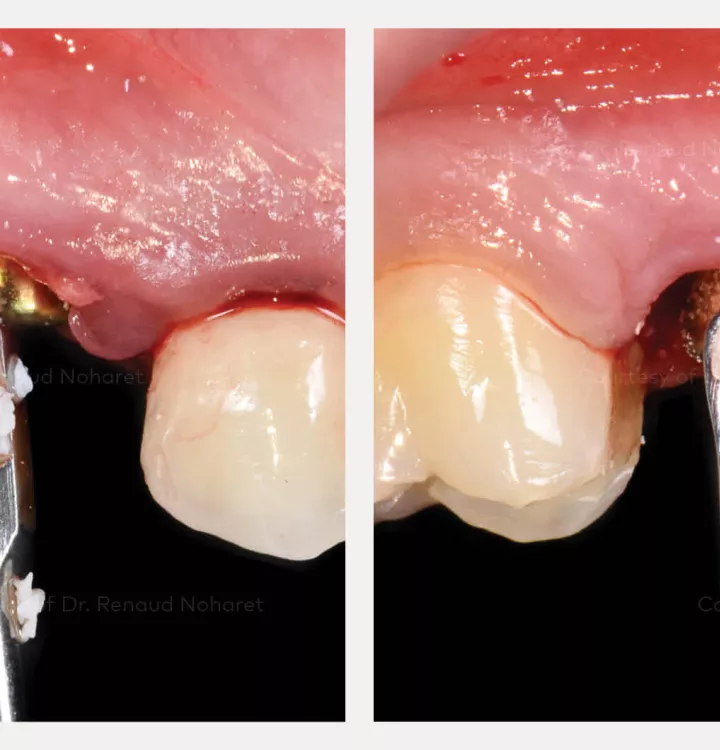 Sealing of socket using creos™ xenogain (left).
Partial incision to create pocket for connective tissue graft (right).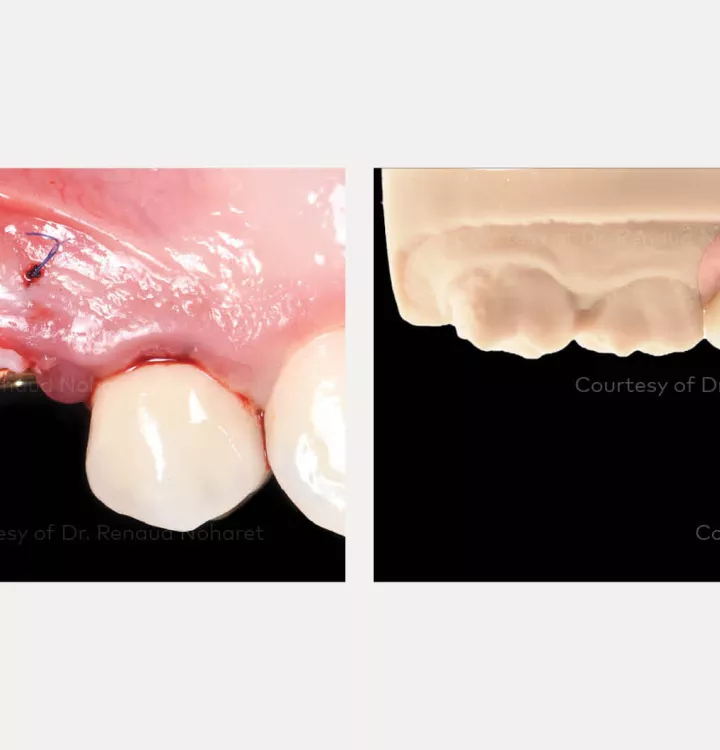 Connective tissue graft with sutures (left).
Provisional on printed model (right).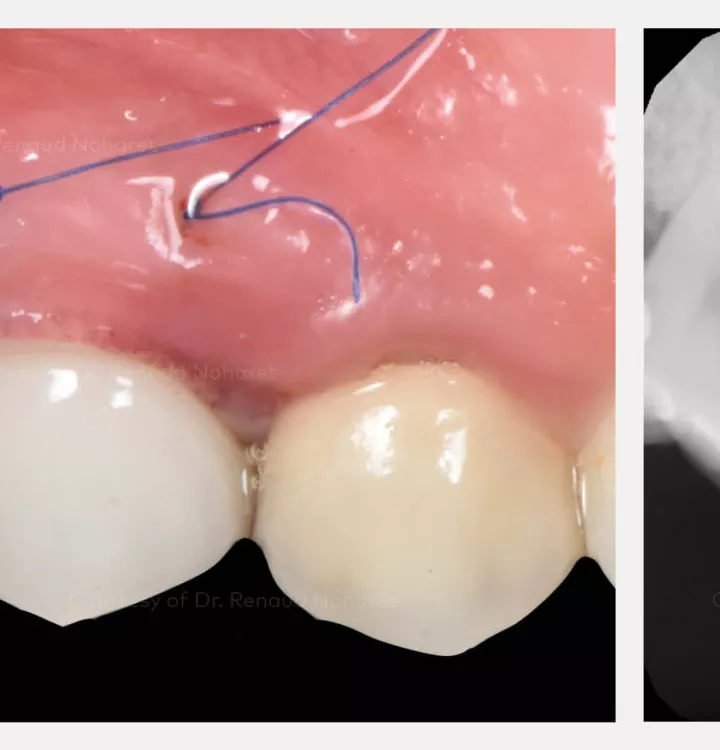 Provisional in patient's mouth (left).
X-ray: Provisionalization at the day of surgery (right).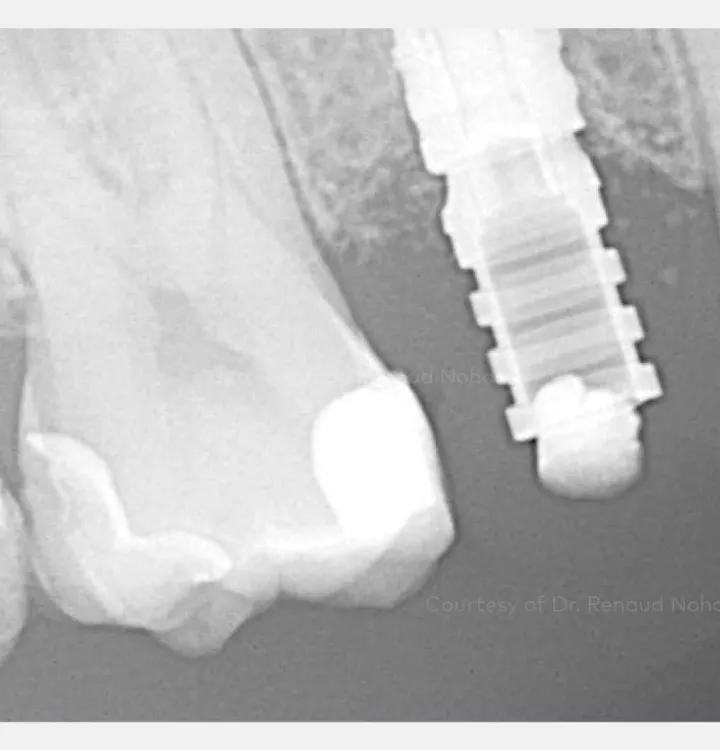 X-ray: Provisional. No visible bone remodeling after 3 months.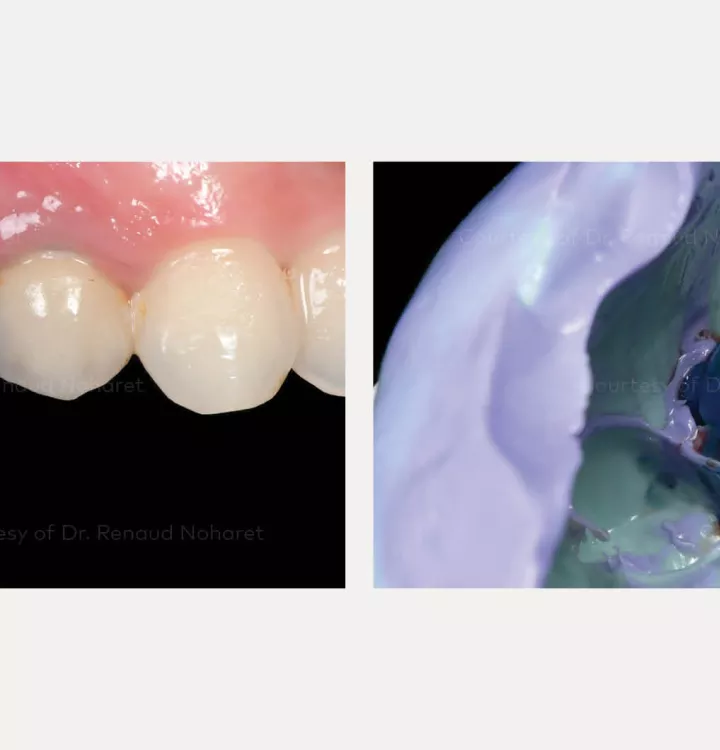 Individualized impression coping (left).
Impression (right).
Excellent esthetic outcome and healthy soft tissue 6 months after surgery.
Occlusal view of implant level (left).
Occlusal view of Nobel Biocare N1 Base Xeal TCC (center).
Occlusal view of final prosthesis (right).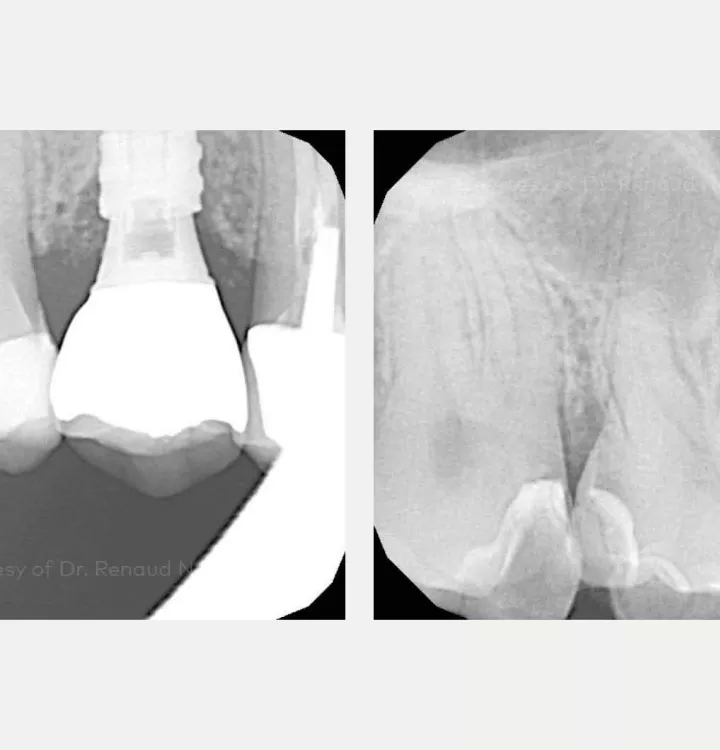 X-ray: Final restoration 7 months after surgery (left).
X-ray: Final July 2021 (right).
Change the way you treat patients.

3 methods of application to meet all your bone grafting needs.

Universal Base - abutments, made your way. Versatility you can base your success on.
Sign up for our blog update
Get the latest clinical cases, industry news, product information and more.
© Nobel Biocare Services AG, 2022. All rights reserved. Nobel Biocare, the Nobel Biocare logotype and all other trademarks are, if nothing else is stated or is evident from the context in a certain case, trademarks of Nobel Biocare. Please refer to nobelbiocare.com/trademarks for more information. Product images are not necessarily to scale. Disclaimer: Some products may not be regulatory cleared/released for sale in all markets. Please contact the local Nobel Biocare sales office for current product assortment and availability. For prescription use only. Caution: Federal (United States) law restricts this device to sale by or on the order of a licensed clinician, medical professional or physician. See Instructions For Use for full prescribing information, including indications, contraindications, warnings and precautions. Nobel Biocare does not take any liability for any injury or damage to any person or property arising from the use of this clinical case. This clinical case is not intended to recommend any measures, techniques, procedures orproducts, or give advice, and is not a substitute for medical training or your own clinical judgement as a healthcare professional. Viewers should never disregard professional medical advice or delay seeking medical treatment because of something they have seen in this clinical case. Full procedure is not shown. Certain sequences have been cut.