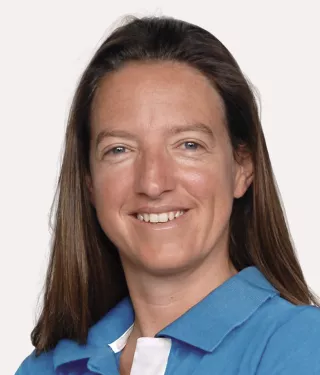 "Xeal is a great step forward into the Mucointegration™ era"
Dr. Ana Ferro
Dr. Ana Ferro, Head of Oral Surgery, Implant & Periodontology at MALO CLINIC, explains her experience with the latest surface innovations, Xeal™ and TiUltra™.
With over 15 years of experience working in periodontology, oral surgery and dental implant rehabilitation, Dr. Ana Ferro is well positioned to provide an informed opinion on implant innovation. In this interview, she explains her views on Xeal and TiUltra, two new surfaces that build upon Nobel Biocare's decades of anodization expertise, designed to offer excellent tissue integration at every level.
Dr Ferro, can you tell us a little about your professional background?
I graduated in 2004 from the University of Lisbon and joined the MALO CLINIC team just a few months later. I'm now director of the Oral Surgery department at the MALO CLINIC Lisbon, as well a lecturer at the University of Lisbon periodontology department. I'm also involved in conducting of a lot of clinical research focused on immediate function of implants, the All-on-4® treatment concept, and all things related to implant rehabilitation.
When did you start using Xeal abutments and TiUltra implants in your daily practice?
I started using Xeal and TiUltra just over a year ago now and have placed roughly 100 implants with them. When choosing to use NobelParallel CC and Multi-unit Abutments, I have completely converted to using the TiUltra and Xeal versions.
What excited you about the new surfaces?
What excited me most was the Xeal anodized abutment surface. Xeal is a great step forward into the Mucointegration™ era, really reflecting the importance of soft tissue attachment. As a specialist in the All-on-4® treatment concept, this is critical in my cases: most of the work takes place at abutment level, and it is important to place the abutment on day of surgery to be ready for the final prosthesis. I want to see fast soft tissue adhesion, and this is just what Xeal has been developed to achieve.
What benefits could these surfaces offer patients?
We are still at early stages and greater clinical studies are needed to show hard data. What I anticipate most is the avoidance of biological complications because of the Mucointegration™ process. If we can achieve denser tissue integration, we can have less bone loss, less suppuration, less recession and less exposure to bacteria. For me, it's all about prevention.
How have Xeal and TiUltra enhanced your treatments?
I've seen good soft tissue adhesion to Xeal abutment surfaces, which is very promising – it's exactly what I want to see. When we look at how the implant surface behaves, we visibly see TiUltra's hydrophilicity, showing promising interactions with blood and the binding of certain proteins. Clinically speaking, we have seen good results so far with TiUltra implants and Xeal abutments – the 1-year follow-ups are looking very good.
You are a highly esteemed trainer and lecturer. Do surfaces feature in your courses?
In my training courses and lectures I explain the evolution in surface science and present some of my cases using Xeal and TiUltra over the past year. The theoretical principles and scientific literature generate a lot of interest and discussion among trainees, especially regarding hydrophilicity, given that it's immediately visible to the naked eye. But also much newer research into the chemistry and nanotopography of implant/abutment surfaces, which haven't been investigated so much in the past.
The Mucointegration™ principle is especially valuable to learn about, owing to the fact that the amount of literature examining osseointegration is vast, and has been investigated for many decades. The Xeal abutment surface marks the beginning of a new Mucointegration™ era, and I look forward to even longer-term clinical data to confirm that it helps achieve it.