"For abutments & implants available with the new surfaces, I have completely converted to Xeal and TiUltra"
Dr. Giacomo Fabbri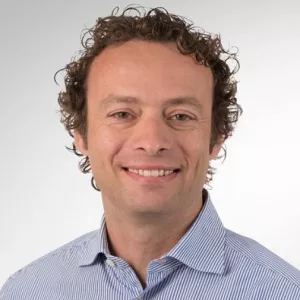 An active member of the Italian Academy of Prosthetic Dentistry, Dr. Giacomo Fabbri lectures internationally on prosthodontics and has published numerous articles in peer-reviewed journals while maintaining a private practice in Cattolica, Italy. One of the first clinicians to use Xeal-surface abutments and TiUltra-surface implants – designed to optimize tissue integration from abutment to the implant apex – he explains why he converted to the new surfaces, the results he has seen so far, and why he has confidence in their long-term treatment outcomes.
Dr. Fabbri, could you please tell us about your professional background and what you currently focus on?
I am a prosthodontist, and I also place implants, usually when there is no need for significant bone augmentation. For me, the implant placement and tissue management need to go together in a steady workflow to achieve excellent implant results.
In recent years, I've focused my research on how the soft tissue integration can be achieved. Soft tissue integration can protect and preserve the stability at bone interface. I also lecture on prosthetic workflows and how dentists can use these to achieve simultaneous bone and tissue integration. For me, it is essential to plan the emergence profile with a comprehensive approach that considers not just the morphology but also the materials, including surface properties, and the abutment placement protocol used as well. By doing so, soft tissue healing can be optimized. Abutment and implant surfaces are an important factor in this respect.
A lot of your research has been on the material used in abutments. What excited you about Xeal™ and TiUltra™, and how have they enhanced your treatments?
I have been using both Xeal and TiUltra surfaces since February last year, and as a prosthodontist, I find the new abutment surface exciting because Xeal has features you need for soft tissue attachment.1
So far, I have seen great results in soft tissue healing and management. I look forward to seeing long-term benefits of TiUltra implants in the future, but so far, at one-year follow-up I have seen very promising results in early osseointegration. I am confident that the TiUltra surface is a significant evolution in how anodization is utilized for implant treatment success, and the new surfaces show Nobel Biocare's expertise in surface technology has been taken to the next level.
Please use landscape mode when viewing this page on mobile.
Placing of NobelActive® TiUltra™ implant in a fresh extraction socket (left).
Occlusal view of the implant with the healing cap in place (right).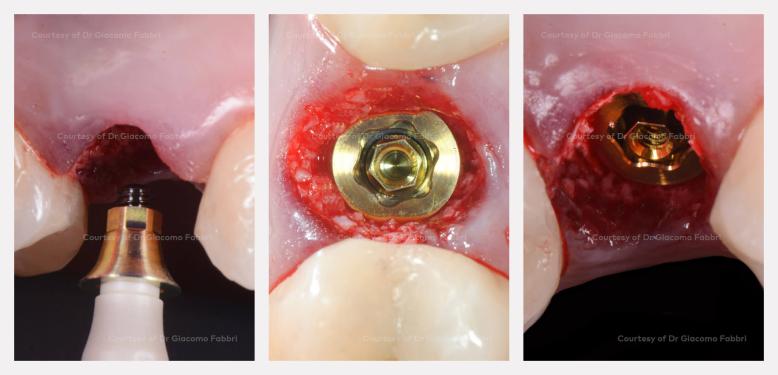 Placing of On1™ Base Xeal™ Conical Connection.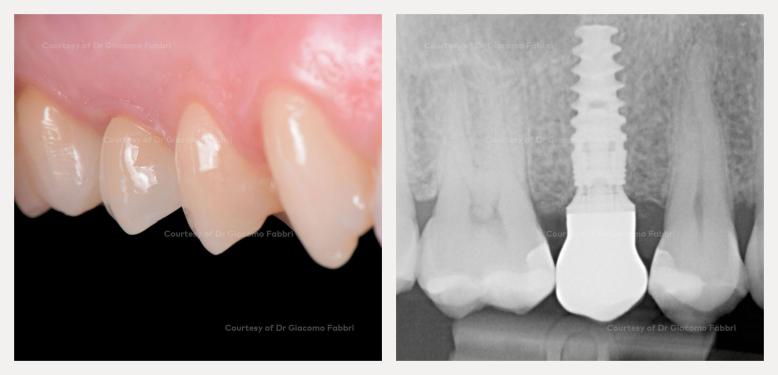 Lateral view of the final prosthetic 3 months after implant placement (left).
X-ray of the implant with the final restoration 3 months after the surgery (right).
How frequently do you use Xeal™ abutments and TiUltra™ implants?
For abutments and implants available with the new surfaces, I have completely converted to Xeal and TiUltra. I'm also now conducting a study that involves NobelActive TiUltra implants and On1 Base Xeal as part of the prosthetic solution, and so far I've placed around 70 of each variety.
And do you use Multi-unit Abutments Xeal™?
Yes, I use them quite frequently. Normally I use Multi-unit Abutments in cases of fully edentulous patients or when I have rehabilitation cases that require more than five units. When there is a small bridge required, only three or four units, then I tend to use On1. It really depends on the clinical situation that I'm facing.
Using new surfaces requires no change in treatment protocols. Is this ease of transition an important benefit?
Implant and abutment surfaces are an important topic in many of my training sessions and lectures. I reiterate to trainees that no new protocol is needed to see the potential benefits of a new surface.
A number of them have asked about the clearly visible feature of TiUltra's implant collar – the golden hue. This can be beneficial compared to gray titanium in the transmucosal zone, however this color is a happy byproduct of anodization at collar level. It doesn't require any change in implant placement protocol and vertical position depth. The amount of anodization at collar level has been designed to create the chemistry and topography for early osseointegration and implant stability.2,3
Once dentists learn about the science behind these surfaces, they can discover the potential benefits of Xeal and TiUltra with immediate integration into existing treatment protocols.
References
1. Susin C, Finger Stadler A, Fiorini T, de Sousa Rabelo M, Ramos UD, Schüpbach P. Safety and Efficacy of a Novel Anodized Abutment on Soft Tissue Healing in Yucatan Mini-pigs. Clin Implant Dent Relat Res. 2019;21:e34–e43.
Read online
2. Susin C, Finger Stadler A, Fiorini T, Musskopf ML, de Sousa Rabelo M, Ramos UD, Fiorini T. Safety and efficacy of a novel, gradually anodized dental implant surface – a study in Yucatan mini pigs. Clin Implant Dent Relat Res. 2019;21:e44–e54.
Read online 
3. Milleret V, Lienemann PS, Gasser A, Bauer S, Ehrbar M, Wennerberg A. Rational design and in vitro characterization of novel dental implant and abutment surfaces for balancing clinical and biological needs. Clin Implant Dent Relat Res 2019;21:e15–e24.
Read online