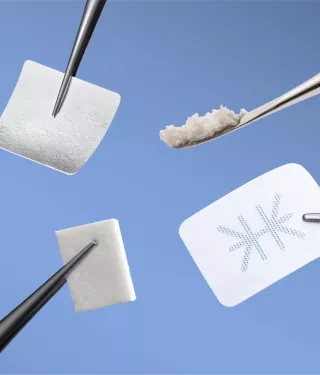 creos™
Dental biomaterials for bone grafting and soft tissue regeneration
Built to meet your everyday needs
creos™ is the Nobel Biocare regenerative product portfolio
Join us and experience the carefully designed, easy-to-use, effective solutions.
We aim to be the trusted regenerative partner for you and your patients, because you are what we stand for.
With creos™ regenerative product line, Nobel Biocare offers you and your patients safe and reliable solutions for guided bone regeneration (GBR) and guided tissue regeneration (GTR) procedures.
3 methods of application to meet all your bone grafting needs.

A membrane with outstanding handling that facilitates bone gain.
Questions about creos™?
If you would like additional information, more details, or have specific questions about creos™, click the link below.
References
1. Ratka C, Weigl P, Henrich D, et al. The Effect of In Vitro Electrolytic Cleaning on Biofilm-Contaminated Implant Surfaces. J Clin Med 2019;8(9):1397.
Read on PubMed