creos™ syntoprotect
Your easy choice of dense PTFE membranes to expand grafting options
Broad range of synthetic non-resorbable membranes, including Ti-reinforced.
syntoprotect PTFE membrane
Purposely leave the membrane exposed to allow preservation of the soft tissue architecture and keratinized mucosa.
NON-RESORBABLE
Won't resorb prematurely - you dictate healing time.
---
SOFT TISSUE ATTACHES, BUT DOESN'T GROW THROUGH THE MEMBRANE
Exposed membrane allows for non-surgical removal; no anesthesia required.
---
100% DENSE (NON-EXPANDED) PTFE
Impervious to bacteria - pore size less than 0.3 μm.
---
Clinical predictability
In two separate studies treating a total of 696 extraction sites using dense PTFE membranes in an exposed technique, there were no reported infections.1, 2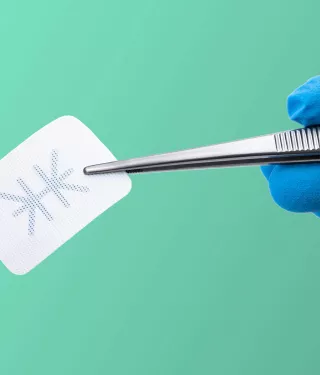 syntoprotect Ti-reinforced PTFE membrane
TRADITIONAL FRAME DESIGN
Incorporating delicate and strategically-placed titanium "struts" with more than 25 years of clinical history and successful use in GBR.
DELICATE, LIGHTWEIGHT FRAMEWORK
Easy to trim and compliant with the overlying soft tissues.
---
HANDLING OPTIONS
Broad portfolio with 13 shapes in 2 thicknesses.
---
LESS IS MORE
Less titanium bulk allows for greater versatility in shaping and placement providing additional stability in large, non-spacemaking osseous defects.
---
Bone loss 1-year post-extraction³

Vertical bone loss measured at crest. Horizontal measured from stent to buccal plate.

Soft tissue regeneration 90 days post-extraction⁴

Measured as reduction of the occlusal distance between buccal and lingual gingival margins.

Vertical ridge augmentation around implants⁵

Mean vertical bone regeneration.
Designed to aid in membrane stabilization
Hexagonal surface dimples provide a textured surface that increases the area available for cellular attachment without increasing porosity. The textured surface is designed to help stabilize the membrane and the soft tissue flap.
Webinar with Dr. Liliana Silva
Synthetic titanium reinforced PTFE membrane in 3D ridge augmentations.
Clinician: Dr. Fabrizio Colombo
Questions about creos syntoprotect?
If you would like additional information, more details, or have specific questions about creos syntoprotect, click the link.
References
See Instructions For Use for full prescribing information, including indications, contraindications, warnings and precautions.
See full references for creos syntoprotect PTFE membranes here
See full references for creos syntoprotect PTFE Ti-reinforced membranes here