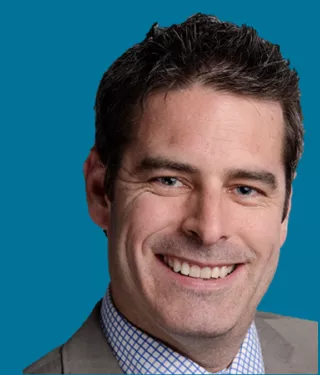 "Science, stability, success": Dr. Graham Carmichael discusses Xeal and TiUltra surfaces
An award-winning clinician, researcher and director at the Brånemark Center in Perth, Australia, Dr. Graham Carmichael is a Consultant Prosthodontist and senior clinical lecturer at the University of Western Australia who has trained dentists and specialists on implant dentistry since 2006. In this interview, he discusses what he most appreciates about the Xeal™ abutment surface and TiUltra™ implant surface, and his opinion on their long-term potentials.
Dr. Carmichael, thank you for taking the time to talk. Could you please tell us a bit about your professional background?
I'm a prosthodontist and I graduated from the University of Sydney. My dental practice is primarily focused on the surgical and prosthetic components of implant treatment, though I do also conduct non-implant-based treatments. Within the dental practice, we also conduct analysis of patient treatment outcomes, and this is an area that we're looking to expand in the future.
I'm also involved in various research projects relating to dental implants. One paper that I recently submitted to a journal, for example, was centered on survival and complication rates relating to reconstructions with the All-on-4® treatment concept.
When did you first find out about Xeal and TiUltra surfaces? What was it about them that interested you?
With any new product, I always want to assess the scientific evidence before starting non-research-based treatment with my patients. Some publications and preliminary data on Xeal and TiUltra surfaces were published back in early 20191 and these were really interesting to me. I started using them shortly after, in April 2019.
Since then, I've been using the TiUltra implants and the Xeal abutments more extensively, and now I'm exclusively using abutments with the Xeal surface for all my full-arch reconstructions, which include the All-on-4® treatment concept.

Dr. Carmichael is an award-winning researcher, lecturer and clinician. "I'm confident in the science behind this development, and early clinical results are promising" he says.
What characteristics of these surfaces most interested you?
The surface chemistry is really interesting: surface roughness has been a key focus for many years, so for me to get more insights into how chemical properties can be modified for tissue integration is great.
I also like the fact that they have been designed together for integration at all levels, so not just osseointegration but also for soft tissue integration. Having read the research, I appreciate how characteristics have been designed to benefit my patients in this respect: it gives me confidence in achieving tissue integration, as well as maintaining soft tissue height.2
The Protective Layer also keeps the surfaces pristine, which is certainly something that I appreciate and that I believe can benefit my patients.
Do you have confidence in the long-term clinical outcomes of implant treatment conducted with Xeal and TiUltra?
I have a lot of confidence in the system to the point that I'm only using the Xeal Multi-unit Abutments. I'm blessed at the Brånemark Centre to still be seeing some of Australia's first implant patients from the early 1980s, so witnessing long-term success is especially important to me. These surfaces are still in their early days, but if I had any reservations or concerns at all, I certainly wouldn't have switched over. I'm confident in the science behind this development, and early clinical results are promising. We've previously seen in other studies that if we can achieve good initial implant outcomes, we can then promote long-term success, and so Xeal and TiUltra surfaces are on the right track from what I can see.
Have you received any particular questions regarding Xeal or TiUltra from trainees?
Probably the most frequently asked question I have encountered is if the golden hue is sprayed or coated on. It then gives clinicians a lot of confidence when I tell them that it's the anodization process that has allowed this warm, golden color to form, rather than any additional material. It's a happy consequence of using this particular technology to tailor the surface at soft tissue level.
What do you think of the golden hue of Xeal and of the TiUltra collar?
I definitely see the benefits of this, particularly for patients with thin tissue biotypes who might be more susceptible to dark shadows associated with grey machined implant and abutment surfaces. The golden hue seems to help the implant appearance in these areas, to make it more natural looking.
What three words would you use to describe Xeal and TiUltra surfaces?
Science, stability, success.
References
1. A New Era in Mucointegration and Osseointegration Driven by Surface Chemistry, Clinical Implant Dentistry and Related Research; Volume 21, Supplement 1, published 12 March 2019.
Read online
2. Hall J, Neilands J, Davies JR, Ekestubbe A, Friberg B. A randomized, controlled, clinical study on a new titanium oxide abutment surface for improved healing and soft tissue health. Clin Implant Dent Relat Res. 2019;21:e55–e68.
Read online