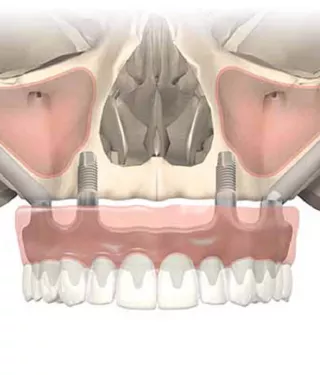 Benefits of zygomatic implants in patients with severe dental bone loss
For patients with severe maxillary resorption, extensive grafting procedures can mean lengthy treatment times. But there is an alternative.
For patients with severe maxillary resorption, extensive grafting procedures can mean lengthy treatment times. But there is an alternative. By anchoring in the zygomatic bone, the NobelZygoma implant system can enable an immediate loading protocol. This dramatically shortens time-to-teeth for increased patient satisfaction and allows patients suffering from severe maxillary bone loss to return to a normal quality of life.1
Benefits of zygomatic implants
High primary stability for Immediate Function
Nobel Biocare's zygomatic implants are designed to support restorative procedures that also allow for immediate loading.2 This allows eligible patients with severe bone loss to have a fixed provisional prosthesis fitted immediately after surgery, avoiding the average nine-month wait and multiple surgeries required with grafting.*
According to Dr. Edmond Bedrossian the provisional prosthesis "has benefits for both the patient and clinician. The lack of compression of the post-operative soft tissue is more comfortable for the patient, as the prosthesis is supported by the implants and not by the soft tissue of the surgical site. Patients also benefit from improved self-esteem as the immediately loaded prosthesis does not move, allowing for more confident speech and enhanced appreciation of foods due to lack of palatal coverage
For the clinician, the immediately loaded prosthesis provides practical feedback as to the 'quality' of the osseointegration at Stage II. If the implants are immobile at Stage II, then the clinician can confidently complete the final prosthesis.
Patients should always receive appropriate and comprehensive aftercare instructions for their immediately loaded prosthesis in order to help ensure the success of the treatment plan."
Other benefits of Immediate Function with zygomatic implants include fewer clinical visits and a less invasive intervention compared to grafting procedures. A study has also shown that soft tissue clinical outcomes, in terms of plaque index, bleeding index and probing pocket depths, for zygomatic implants seem similar to those for conventional dental implants.3
Surgical flexibility
Building on 25 years of success with Nobel Biocare's zygomatic implants, the new NobelZygoma 0̊ and NobelZygoma 45̊ implants are also designed to anchor in zygomatic bone and provide an excellent option for treating maxillary resorption. They have an unthreaded implant body designed to interface with soft tissue, and depending on the anatomical situation parts of the implant body can be located outside of the maxillary sinus. For the extra-maxillary placement, the coronal part of the implant should still have bone support.
The straight implant head and mount-free insertion of the NobelZygoma 0̊ implant allow for greater flexibility during implant placement. The NobelZygoma 45̊ implant comes in an extended range of implant lengths, from 30 mm to 52.5 mm, all with an external hex connection.

According to Prof. Paulo Malo, "these implants have three major benefits. First, they allow for high primary stabilitywhich is important for immediate loading. Second, the non-threaded part of the implant body acts well with soft tissue. Lastly, the two different angulations provide more flexibility for our prosthetic approach. This is a very important step forward in the zygomatic technique."
Helping treat more patients better
The zygomatic implant has become the implant of choice for cases with a severely resorbed maxilla. Without this implant, many patients would otherwise require invasive grafting procedures to establish adequate bone volume for the placement of conventional implants. Zygomatic implants help avoid grafting and shorten treatment time, with significant post-operative improvements in function and esthetics.4
Dr. Rubén Davó agrees: "After zygomatic treatment the improvement in quality of life for the patient is dramatic. Before the treatment, these patients are orally handicapped, which can lead to a lot of psychological, social and functional problems. In my experience, after the treatment quality of life can return to normal. It's remarkable."
References
1. Bedrossian E, Rangert B. Immediate Function with the Zygomatic Implant; A Graftless Solution for the Patient with Mild to Advanced Atrophy of the Maxilla Int J. Oral Maxillofac Implants 2006;21:937-942.
2. Bedrossian E. Rehabilitation of the Edentulous Maxilla with the Zygoma Concept: A 7-year Prospective Study. Int J Oral Maxillofac Implants 2010;25;1213-1221.
Davo R, Pons O. 5-year outcome of cross-arch prostheses supported by four immediately loaded zygomatic implants: A prospective case series. Eur J Oral Implantol 2015;8(2):169-74.
Maló, P., de Araújo Nobre, M., Lopes, A. et al, Extramaxillary surgical technique: Clinical outcome of 352 patients rehabilitated with 747 zygomatic implants with a follow-up between 6 months and 7 years. Clin Implant Dent Relat Res. 2015;17:e153.
Maló P, de Araújo Nobre, M, Lopes A, Ferro A, Moss S. Five-year outcome of a retrospective cohort study on the rehabilitation of completely edentulous atrophic maxillae with immediately loaded zygomatic implants placed extra-maxillary. Eur J Oral Implantol. 2014 Autumn;7(3):267-81.
3. de Araújo Nobre M, Maló P, Gonçalves I. Evaluation of Clinical Soft Tissue Parameters for Extramaxillary Zygomatic Implants and Conventional Implants in All-on-4 Hybrid Rehabilitations: Short-Term Outcome and Proposal of Clinical Recommendations for Intervention in Recall Appointments. Implant Dent. 2015 Jun;24(3):267-74.
4. Balshi TJ, Wolfinger GJ, Shuscavage NJ, Balshi SF. Zygomatic Bone-to-Implant Contact in 77 Patients With Partially or Completely Edentulous Maxillas. J Oral Maxillofac Surg 2012;70(9):2065-9.
Farzad P, Andersson L, Gunnarsson S, Johansson B. Rehabilitation of severely resorbed maxillae with zygomatic implants: an evaluation of implant stability, tissue conditions, and patients' opinion before and after treatment. Int J Oral Maxillofac Implants 2006;21(3):399-404.