"This is a significant evolution in using a proven surface technology." Dr. Enrico Agliardi
A maxillofacial surgeon, professor of special rehabilitation surgery, and specialist in treating edentulous patients, Dr. Enrico Agliardi explains his experience with the Xeal™ abutment surface and TiUltra™ implant surface, and why he is confident in achieving long-term treatment success.
As the author of numerous studies on the treatment of edentulous patients with dental implants, Dr. Enrico Agliardi fully understands the importance and intricacies of dental implant and abutment surfaces. Having already used the Xeal and TiUltra surfaces in around 100 cases so far, in this interview, the Milan-based surgery professor discusses his experiences with the two new surfaces from Nobel Biocare.
Dr. Agliardi, thank you for taking the time to talk to us. Could you tell us a little about your dental background?
I obtained my doctorate in medicine and surgery from the University of Milan, where I also specialized in maxillofacial surgery and orthodontics. Since 2009, I have been the Head of Advanced Oral Surgery at San Raffaele Hospital's Department of Dentistry, and I am currently a professor of special rehabilitation surgery at the Vita-Salute San Raffaele University in Milan.
My main form of treatment these days involves placing implants in edentulous patients, an area that I am specialized in. I also conduct lecturing and training on this topic.
When you first heard about Xeal and TiUltra surfaces, what specifically drew your attention most?
I was most excited when I learned that the Xeal surface was designed for soft tissue healing, which is a challenge I long thought that surfaces could address. From my perspective, the Xeal abutment surface presented an amazing potential to deal with this, and the results of pre-clinical and clinical studies published at the time of Xeal's introduction have been very promising.1,2
Regarding TiUltra, I see this as taking TiUnite's anodization technology a step forward, and the TiUnite surface is proven beyond doubt to enable early and long-term osseointegration.3,4 Now, TiUltra uses this anodization technique to tailor the surface to the types of bone tissue at each level, from implant collar to apex. This really intrigued me.
You first started using the surfaces about one year ago. How many cases have you used Xeal and TiUltra for?
Around 100 cases so far, more or less. 
Have you seen any improvements to treatments with these surfaces?
I've noticed that there's a better initial response from the soft and hard tissues to Xeal and TiUltra compared to other surfaces I've used, and we have generally witnessed excellent implant outcomes to this point. The soft tissue heals extremely fast and seems to remain very stable over time, which gives both the patient and I great satisfaction, since achieving stability makes ongoing tissue management easier.
Overall, I've seen improvements using Xeal and TiUltra when compared to the old surfaces.
Do you have confidence that you will see long-term implant success with Xeal and TiUltra?
I think the clinical and biological concepts behind the design of Xeal and TiUltra are well positioned to deliver long-term advantages. Obviously, we need to wait to confirm, since I've only been able to conduct one-year follow-ups to this point.
But nonetheless, we shouldn't lose sight of the fact this is not a revolution in implant surface. This is a significant evolution in using a proven surface technology.3 The anodized TiUnite surface has been scrutinized for nearly two decades and in a recent analysis it showed the best long-term results compared to other technologies, including sand blasted and acid etched.4 The research and development of Xeal and TiUltra explored more than surface roughness, but also how anodization can adapt surface chemistry, nanostructure, and porosity.5 I find this very exciting, and I'm confident that I can achieve long-term success with this.
Images courtesy of Dr. Enrico Agliardi. Patient: 65, female, fully edentulous in both jaws. Surgical solution: All-on-4® treatment concept, NobelParallel™ CC TiUltra™ RP 4.3x13mm, Multi-unit Abutment Xeal™. Restorative solution: NobelProcera® implant bar with composite teeth (planned).
Please use landscape mode when viewing this page on mobile.
Front, side and profile images of the fully edentulous patient.
Twist Drill in the posterior and placement of NobelParallel CC implant with TiUltra™ surface
Implant inserted until collar and Implant inserted in the posterior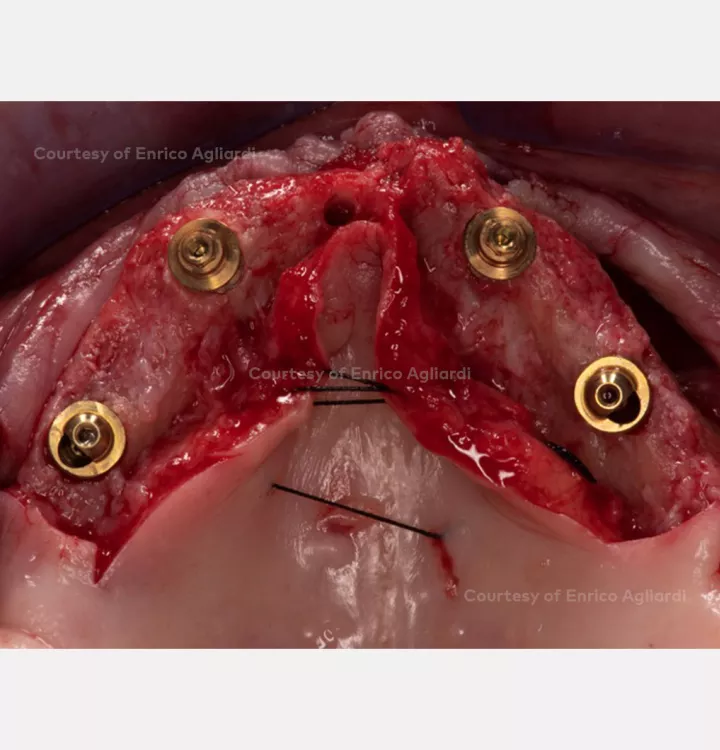 Multi-unit abutments Xeal™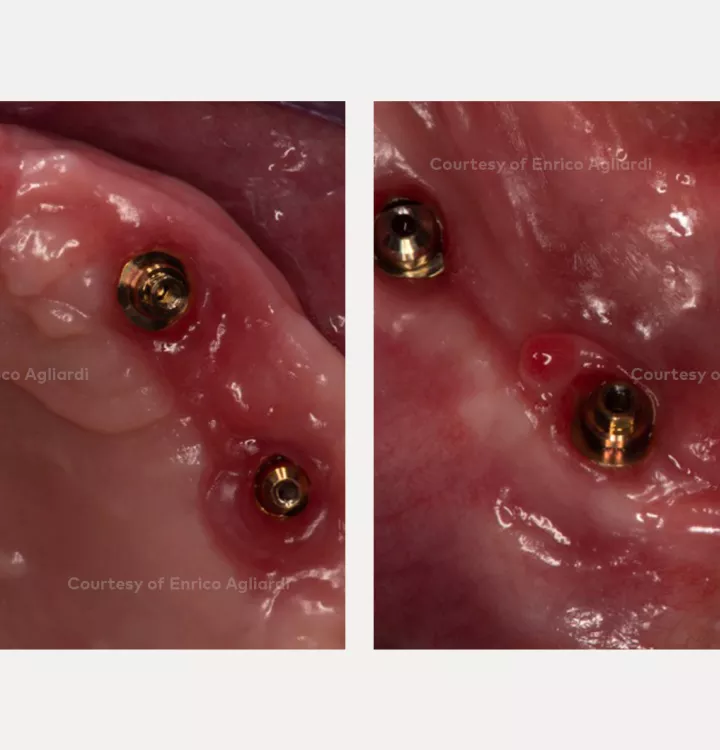 Healthy soft tissue 2 weeks after surgery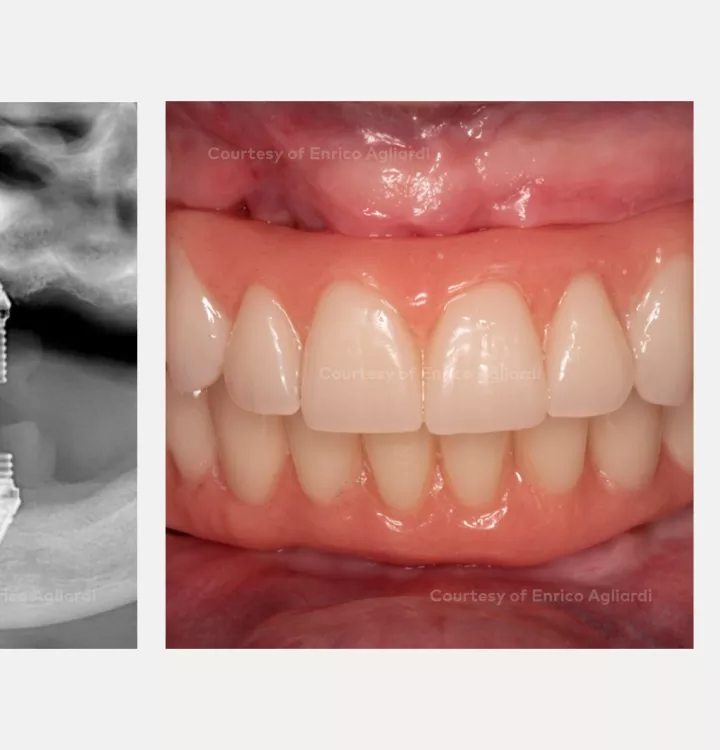 2 months after implant insertion and placement of Temporary Snap Copings on Multi-unit Abutment Xeal™ (left)
Finalization of the temporary prosthetic. Occlusal view shows Temporary Coping access holes blocked (right)
Before and after rehabilitation with the  All-on-4® treatment concept.Smile close-up before (top) and after  rehabilitation of the patient with the  All-on-4® treatment concept (bottom)
Would you recommend Xeal and TiUltra to other dental clinicians?
I recommend Xeal because in my cases so far, I have seen stable, dense soft tissue around the abutments, which is crucial for long-term tissue health.6,7,8,9 For TiUltra, I would recommend this surface because it has been specially designed to stabilize the bone around the implant,10 and in my experience stability is especially important when considering fully edentulous patients who are seeking Immediate Function.
References
1. Susin C, Finger Stadler A, Fiorini T, et al. Safety and efficacy of a novel anodized abutment on soft tissue healing in Yucatan mini-pigs. Clin Implant Dent Relat Res 2019;21(Suppl 1):34-43.
Read online
2. Hall J, Neilands J, Davies JR, et al. A randomized, controlled, clinical study on a new titanium oxide abutment surface for improved healing and soft tissue health. Clin Implant Dent Relat Res 2019;21(Suppl 1):55-68.
Read online
3. Karl M, Albrektsson T. Clinical performance of dental implants with a moderately rough (TiUnite) surface: a meta-analysis of prospective clinical studies. Int J Oral Maxillofac Implants 2017;32(4):717–734.
Read on PubMed
4. Wennerberg A, Albrektsson T, Chrcanovic B. Long-term clinical outcome of implants with different surface modifications. Eur J Oral Implantol 2018;11(Suppl 1):S123-S136.
Read on PubMed
5. Milleret V, Lienemann PS, Gasser A, et al. Rational design and in vitro characterization of novel dental implant and abutment surfaces for balancing clinical and biological needs. Clin Implant Dent Relat Res 2019;21(Suppl 1):15-24.
Read online
6. Rompen E, Domken O, Degidi M, et al. The effect of material characteristics, of surface topography and of implant components and connections on soft tissue integration: a literature review. Clin Oral Implants Res 2006;17(Suppl 2):55-67.
Read on PubMed
7. Alva H, Prasad KD, Prasad AD. Bioseal: The physiological and biological barrier for osseointegrated supported prosthesis. J Dent Implant 2013;3:148-152.
Read online
8. Touati B, Rompen E, Van Dooren E. A new concept for optimizing soft tissue integration. Pract Proced Aesthet Dent 2005;17(10):711-715.
Read on PubMed
9. Schupbach P, Glauser R. The defense architecture of the human periimplant mucosa: a histological study. J Prosthet Dent 2007;97(6 Suppl):S15-25.
Read on PubMed
10. Susin C, Finger Stadler A, Musskopf ML, et al. Safety and efficacy of a novel, gradually anodized dental implant surface: A study in Yucatan mini pigs. Clin Implant Dent Relat Res 2019;21(Suppl 1):44-54.
Read online