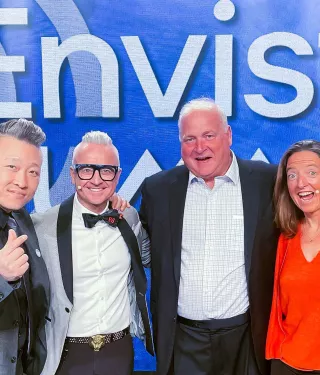 Our favorite moments from Envista Summit 2023 in Las Vegas
We come to the Envista Summit to discover the most promising innovations in dentistry and to be inspired by the latest concepts and techniques. In terms of delivering the latest innovations, the Envista Summit lived up to the hype. Beyond innovations, considerable attention was also paid to achieving optimal esthetics, digital dentistry workflows – and the All-on-4® treatment concept, since 2023 marks its 25th anniversary. Join us as we recap some of our favorite moments from Envista Summit 2023 in Las Vegas.
We hope to see you again in 2024!
Focus on digital workflows
During the session "Modernizing your Analog Implant Practice to a Digital Implant Practice: How & Why," Drs. Joe Mehranfar, Alessandro Pozzi and Reena Talwar answered both the "how" and "why" attendees should consider going with all-digital workflows. The panel also presented some actionable recommendations on integrating digital technologies into analog practices.
Dr. Reena Talwar emphasized the importance of 3D technologies to the modern practice, saying that to "plan and perform dental implant surgery properly you need to have a complete anatomical picture." Dr. Talwar closed her segment by imploring attendees to build a foundation that aims for 100% success by using digital 3D technologies.
"They are doing way more than I do digitally and doing a great job. My next step is getting the DTX Studio™ suite software and start to digitally treatment plan. I'm still on analog and waxups and do my surgical guides from those. I am looking forward to doing more with the digital realm."
When asked how digital workflows have changed her practice, Dr. Talwar summarized the benefits in four words: "predictable, accurate, safe and successful." She feels these qualities are exactly what she was looking for in offering elective procedures aimed at improving health, function and esthetics.
Digital workflows boost clinical performance...
Prof. Alessandro Pozzi built upon the message he started during the previous day's presentation by focusing on patients with terminal dentition. "The challenge of the past decade," he says, "has been mastering digital technologies in order to develop a flawless digital workflow." Prof. Pozzi states that introducing the Nobel Biocare N1™ system into his practice has boosted his clinical performance by way of the system's low-speed drilling protocol and dynamic navigation.
In another session, Prof. Pozzi paused to admire one of the patient's "post-rehabilitation" photos. He said that seeing the photo reminds him why he likes working digitally so much – it's simply a better way to understand human biology, a sentiment shared by Dr. Talwar.
...and connect teams
Before kicking off a Q&A session, Dr. Mehranfar shared some remarks about his own personal experiences with digital workflow solutions such as DTX Studio Lab. He says these technologies have made his teams stronger and more connected. During the workshop "Improving Communication with the Dental Laboratory," lab tech and Master's Arch CEO Sean Han stated that you cannot reliably achieve optimal results without clear communication. And, a big part of improving communication is having a digital workflow that makes it easy to transmit data. Sean Han concluded his presentation by challenging the audience to build their teams, know the next steps, and understand the timeline and cost to fully realize the benefits of incorporating a digital workflow.
The "magic" of photogrammetry
Dr. Joe Mehranfar has always been a clinician who embraces innovation, and his affinity for the latest technology and techniques was put on full display during his workshop and general session appearances. During the same digital workflow session, Dr. Mehranfar discussed the "magic" and utility of photogrammetry. It's a concept that has been around for decades, although only recently has photogrammetry been fully incorporated into digital workflows.
Photogrammetry allows clinicians to determine – with a high level of accuracy – the spatial positioning between objects, which is especially useful when determining the optimal implant positions for the fabrication of implant-supported frameworks.  
As Dr. Mehranfar explained, photogrammetry gives you all the data you need to make a prosthesis the patient can comfortably wear directly following surgery. 
Dr. Mehranfar explained that, with DTX Studio Implant, creating a full-arch prosthesis is as easy as "pressing a few buttons." Talking with master ceramist Sean Han, Dr. Joe Mehranfar discussed how incorporating photogrammetry and other digital dentistry tools can lead to improved results with the All-on-4® treatment concept. 
He also explained how, by investing in digital technologies such as X-Guide® dynamic 3D navigation and DTX Studio software, clinicians can reduce risks such as nerve injuries and implant misplacements. Dr. Mehranfar explained that while these innovative workflows may seem intimidating at first, it will feel like second nature after running through the workflow several times. 
Intraoral scanners were big (and smaller)
Drs. Shoresh Afnan, Ann Wei and Marko Magic led the session "Using DTX Studio Planning Software and IOS Technology in Complex Cases."
During this session, the presenters highlighted the unique benefits of using intraoral scanners and DTX Studio planning software for complex cases.
As one of the creators of the X-Guide® dynamic 3D navigation system, Dr. Robert Emery provided a unique perspective to the workshop "Ensuring Precision with Dynamic Navigation Implant Surgery." During the session, attendees were introduced to new designs and clinical applications for the leading dynamic navigation systems.
"I love these conferences. I always come to see what's new and if there is something I can take back and use in my practice. I'm being a sponge. I just want to listen."
The workshop highlighted what clinicians can expect from their dental laboratory partners designing NobelProcera® Zirconia Implant Bridges for full-arch rehabilitation using the highly anticipated OpenAccess for exocad to connect virtually to NobelProcera. Envista Summit 2023 was also the first time many attendees came into contact with the latest DEXIS™ intraoral scanners. These included the impressively compact and all-wireless DEXIS IS 3800W intraoral scanner.
3D printing in the dental office
Dr. August de Oliveira led a fascinating session on 3D printing, which left many attendees realizing that 3D printing isn't a novelty – it will fulfill essential roles in the not-too-distant future. During the workshop session, Dr. de Oliveira demonstrated how 3D printing simplifies and shortens treatment times – benefits that patients, clinicians and technicians can certainly appreciate!
Esthetics, esthetics, esthetics!
Today's doctors and patients have higher expectations when it comes to how their dental implant restorations will appear. During the session "Achieving Esthetic Outcomes through Prosthodontic Procedures in Implant Dentistry," Drs. Sinada, Ng and Marchack detailed the prosthodontic methods required to achieve consistently optimal esthetic outcomes that win rave reviews from patients. Dr. Jonathan Ng encouraged attendees to "start from the end." That is, imagine a perfect end result and then work backwards. DTX Studio software, Ng says, can be a powerful tool in turning that initial vision into a step-by-step workflow. 
"I attended Dr. Naif Sinada's workshop on prosthetics. The tips about positioning the implants lingually and how to do so was very helpful to me. I enjoyed learning about getting the right depth and the finer points of placing it to get a good esthetic on it. He is an excellent clinician. Great speaker. Down-to-earth."
Dr. Ernest Orphanos began the presentation "Achieving Esthetic Outcomes through Surgical Procedures" by declaring that the world of implant dentistry is undergoing a paradigm shift in how we view dental esthetics. Dr. Orphanos stated that, with present technologies, we are capable of doing so much more. He went on to discuss two cases where modern tools and techniques are capable of achieving incredible esthetic results, even in complex cases.
The panel posed the question: Since bone changes over time, what steps can we take to minimize changes that negatively affect esthetics? Dr. Phillip Roe answered by stating that having an intact socket is always important, as it contributes to long-term stability. He also recommended using implants with a smaller diameter to increase the gap between the buccal bone and implant, then graft the gap. Dr. Roe recommended contour grafting, which is something he does with each case. But when working with biologic materials, he urged attendees to always understand what they are using.
The implant-surgeon/restoring-doctor connection
During the workshop "Surgical Techniques to Enhance Esthetics," Dr. Phillip Roe described the additive and subtractive techniques that yield optimal esthetic outcomes. Dr. Roe emphasized the importance of the implant surgeon setting up the restoring doctor for esthetic success, not only with the final restorations, but with immediate provisionals as well.
"I'm a new graduate so attending the Envista Summit has been a lot of refreshing knowledge. We are learning about prosthetic specialities and I'm a fan of hands-on sessions. You get to do suturing techniques, bone grafting, and ridge preservations. I love sessions like this!"
Innovation is in store
Whether you're looking to migrate to an all-digital workflow or simply want the best treatment options for your patients, Nobel Biocare has a full range of implants, abutments, regeneratives, CAD/CAM and guided surgery tools and much more.
We celebrated 25 years of All-on-4® treatment concept
When the All-on-4® treatment concept was first introduced, the procedure relied on freehand surgery with static guides. 25 years later, digitally guided implant placement techniques are not only leading to streamlined workflows, but also to better, more accurate results.  Part of the All-on-4® treatment concept's impressive longevity can be attributed to its adaptability, and this was on full display at this year's Envista Summit.
"The All-on-4® treatment concept is not as easy as it looks! I'm ready to get started and attending this workshop allowed me to really think through my next steps. I'm trying to inhale the knowledge slowly so when I'm ready to roll out my workflow, I'll feel confident that I've done my due diligence."
Complete digital workflow for the All-on-4® treatment concept
During the general session, "Complete Digital Workflow for the All-on-4® Treatment Concept," Dr. Ana Ferro was joined by Drs. Joe Mehranfar, Ken Parrish and technician Sean Han to discuss the latest digitally guided implant placement techniques for the All-on-4® treatment concept.  They discussed the importance of precision and accuracy with the All-on-4® treatment concept, and how the latest tech is a great asset in ensuring predictable surgical outcomes. 
Dr. Parrish commented that digital workflow has "made me a better dentist" because it's allowed him to try new things. His takeaway message to attendees was "pick the digital workflow option that works best for your office and for your patient."
"At the Envista Summit, I was most excited to learn about the latest technologies in the field. Specifically, the N1 system, X-Guide 3D navigation, and the All-on-4® treatment concept digital workflow with DTX Studio suite."
Schedule a Lunch & Learn session
Couldn't make it to Envista Summit 2023? We'll bring a "mini Summit" to your clinic or lab – schedule a Lunch & Learn session today!
Implant planning and placement for the All-on-4® treatment concept
During the workshop "Implant Planning and Placement for the All-on-4® Treatment Concept," Drs. Ana Ferro, Matthieu Ghibaudo and Marko Magic shared tips on the how to plan for success with the All-on-4® treatment concept. The trio focused on the role of workflow planning in ensuring successful outcomes with Nobel Biocare's full-arch edentulous treatment. They also touched on ways to minimize and avoid complications in order to achieve and maintain long-term results.
Getting hands-on with the N1™ system
The concept of the N1 system is rather easy to understand: There's the OsseoDirector™, which prepares the site and determines the location of the implant, as well as the low-speed (50 rpm) OsseoShaper™ that creates an osteotomy specific to the co-packed N1 Implant. The result is an optimized implant site created with biology in mind, preserving more of the patient's native bone without compromising immediacy.
Attendees reviewed Dr. Bahat's recently published clinical study on the OsseoShaper, which concluded that in implant site preparation it preserves vital anatomical and cellular structures while simplifying surgical protocols.
Additionally, Dr. Staas recently took part in a retrospective observational study on the N1 system, in which the study's authors called it a "biologically friendly innovation." With the streamlined workflow and increased comfort for patients, we have to agree!
There's more to explore in 2024!
Envista Summit is coming to Anaheim, California, in 2024! Stay tuned for info on early bird registration and other details.