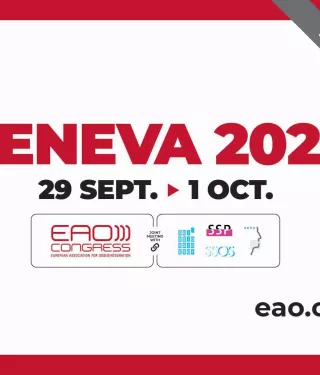 Discover Nobel Biocare Innovations at the EAO 2022 Industry Forum
The European Association of Osseointegration holds the EAO Congress in Geneva from September 29th to October 1st, and Nobel Biocare is proud to present educational opportunities and our latest innovations featuring industry-expert speakers at the Industry Forum on Thursday September 29th, 16:30-18:30, Room A. 
Biologically driven innovations for immediate and long-term treatment success
Based on scientific and clinical expertise, Nobel Biocare introduced some of the most groundbreaking innovations in implantology over the years, from single tooth to full arch treatment solutions.
At this year's EAO congress, global experts will present the biological rationale behind the latest evidence-based developments, and how these enable immediate and long-term treatment success. These include abutment and implant surfaces for osseointegration and the Mucointegration™ concept, and the biological benefits of site preparation with OsseoShaper™, part of the new Nobel Biocare N1™ concept.
In addition, presenters will share their practical application of these solutions, including digital workflows, navigated surgery, patient-specific treatments and incorporation into the All-on-4® treatment concept.
Chair
Christoph Hämmerle – Switzerland
Speakers
Enrico Agliardi, Italy
Juan Mesquida, Spain
Renaud Noharet, France
Rehabilitation of Atrophic Jaws with Tilted Implants| Enrico Agliardi
In recent years, materials and techniques used in implantology have undergone continuous improvements. Tilted implants approach has been a revolutionary technique that changed the way of doing implant-supported total rehabilitation. All-on-4, V-II-V, trans-sinus and zygomatic implants have become reliable and predictable procedures supported by strong scientific evidence. Amongst their advantages higher comfort for the patient, time saving, cost saving, and higher esthetic result are only a few.
In addition, immediate loading is a great advantage in term of psychological acceptance and functional result. Throughout the lecture attendants will learn how to treat compromised patients using the latest innovations including the new N1 implant system and new monolithic zirconia frameworks with great benefit for both patient and clinician.
Learning objectives
– Learn how to set up a correct diagnostic phase for atrophic patients in need of immediate loading total rehabilitation.
– Learn the titled implants surgical protocol to achieve a correct placing and distribution.
– Learn how to deliver a functional and esthetic provisional prosthesis and how to convert it in a final rehabilitation with long-term success.
Factors affecting Peri-implant stability: Abutment macro and microdesign for the improvement of the soft tissue interface | Juan Mesquida
The relationship between marginal bone loss and peri-implant soft tissue stability remains a subject of debate despite the multiple improvements in terms of design and materials for the restoration of dental implants.
Avoiding repeated abutment disconnections, an adequate selection of the restorative material, an accurate tridimensional fixture positioning and the site development of the area to be treated, both from a hard and soft tissue standpoint, are essential to maintain a healthy and stable peri-implant environment over time.
This presentation will analyze the impact of the variables previously described and discuss new restorative designs and surface treatments that could potentially lead to a more stable soft tissue interface and reduce the incidence of biologic complications associated to current restorative designs, in the long term.
Preliminary data of studies analyzing the innovative Mucointegration concept will be presented and discussed. A critical review on the limited available evidence will be presented as well.
Learning objectives
– Highlight the importance of both hard and soft tissue stability for implant success.
– Identify the technique-associated factors that can lead to marginal bone loss.
– Identify abutment design-associated factors that can lead to peri-implant bone loss.
– Identify factors that can lead to soft tissue remodeling around dental implants.
– Evaluate new abutment designs and their impact on both hard and soft tissue stability over time.
– Recognize studies in development with the new "Xeal" surface and evaluate soft and hard tissue parameters.
How digital innovations can deliver better clinical results | Renaud Noharet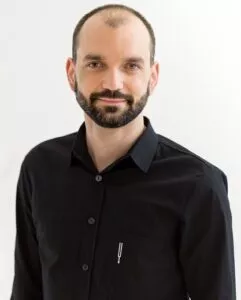 To deliver our patient high-end results in terms of esthetics, biology and prosthetics it is undisputed that the ideal position of the implant plays a very important role. To achieve this, two steps are important:
Good planning with efficient tools helps to choose the biological and prosthetically ideal place for the implant. This is a very important step and requires collecting all data (digital patient) by using modern tools such as software and imaging devices and bringing the data together in one place.
Guided surgery allows for a very accurate and reproduceable implant placement which helps for both, placing the implant in the ideal position and increasing predictability for immediately loaded cases.
This presentation highlights the key steps in the treatment: data acquisition and storage, planning as well as clinical execution with dynamic navigation.
Learning objectives
– Learn about the dynamic navigation concept
– Learn about using dynamic navigation on full arch cases
– Learn how to combine digital tools for immediately loaded full arch cases
– Understand how a fully digital workflow helps to treat patients better