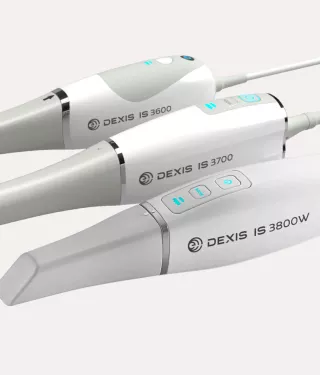 DEXIS™ IS intraoral scanners
Put world-class scanning functions in your hands
DEXIS IS 3800W
The freedom of wireless
The DEXIS IS 3800W is a completely novel approach to obtaining impressions. Totally wireless, the IS 3800W gives you the freedom to move effortlessly and take on practically every indication. It also gives you the flexibility to choose when and how you interact with treatment partners. And, with the DEXIS IS 3800W, you only pay for what you use, making it an economical, yet robust solution.
Features:
– Ultra-fast scans: Scan an entire arch in as few as 25 seconds*
– Broader, deeper field of capture
– One hour of scan time on a single charge
– Interchangeable tips
DEXIS IS 3700
Revolutionizing workflows
Why compromise? The DEXIS IS 3700 combines high-performance features with a workflow that simply works. With the DEXIS IS 3700, it's as easy as creating scans, choosing a workflow (implant, restorative or orthodontic), and exporting your file. You may also refine the appearance of your scans to suit your own clinical needs. This revolutionary workflow allows you to switch between clinical applications with ease. It's fast, too; the DEXIS IS 3700 can complete full-arch scans in just 30 seconds**.
DEXIS IS 3600
A powerful, world-class entry into digital
The power to create world-class intraoral scans is in your hands with the DEXIS IS 3600 intraoral scanner. The DEXIS IS 3600 is a revolution in handheld intraoral scanners. Lightweight and ergonomic, the IS 3600 simplifies creating digital impressions and digital models. This model features focused workflows for implant, restorative and orthodontic procedures. The open software architecture simplifies the process of making files available to labs and referrals, ensuring seamless communication and lightning-quick turnaround times.
* Internal testing completed on a 3D model
** Based on internal, in vitro testing
Starting in late October 2022, the IOS product portfolio will be marketed under the DEXIS IS brand. Until then, Carestream Dental will be the brand name on the products.
The Digital Journey: Utilizing intraoral scanning to maximize clinical production
Hosted by Dr. Robert Pauley, Jr.
How can we help you with your digital workflow?
Nobel Biocare can help you deliver on the promise of excellent clinical outcomes for your patients. Adopting a digital workflow can bring efficiency and consistency to dental implant procedures. To learn more about the DEXIS IS scanner, speak to your local sales representative.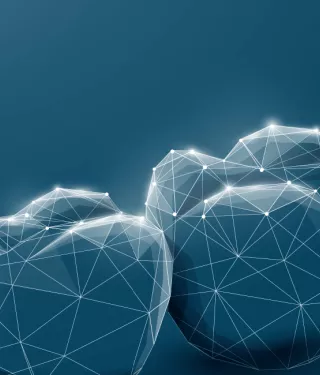 Zurich Digital Days
A unique experience made just for you.