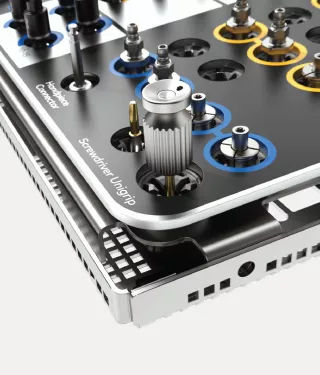 PureSet™ Trays
Ease, speed and hygiene, all-in-one with PureSet freehand and guided surgery kits for conical connection implant systems.
Stainless steel trays designed for automated cleaning.
Discover advanced simplicity
Small practices or large healthcare facilities can enjoy the ease of use and benefit from workflow improvements thanks to the robust stainless steel trays* designed for automated reprocessing.
Uncompromised hygiene
PureSet Trays are made of stainless steel and designed for automated cleaning with few manual steps. Tray and instruments stay together throughout the automated reprocessing workflow.1
Number of manual steps reduced by 50%1
Significant time savings as tray and instruments remain together during cleaning and sterilization.
Securely retains your instruments
Surgical instruments are secured using metal springs.
Medical grade stainless steel1
Supports your dedication to uncompromised hygiene.
A comprehensive surgery kits portfolio
PureSet freehand and guided surgery kits are available for NobelActive, NobelParallel CC and NobelReplace CC.
For even greater efficiency, two of Nobel Biocare's leading implant systems – NobelActive and NobelParallel CC – can both be stored in just one single tray, requiring fewer instruments, thanks to their similar drilling protocols.
Because you like simplicity and security for your freehand implant surgery, the new PureSet (PUR0900) includes NobelSpeedy® Groovy, Brånemark System® and Replace Select™ TC S/B/RTC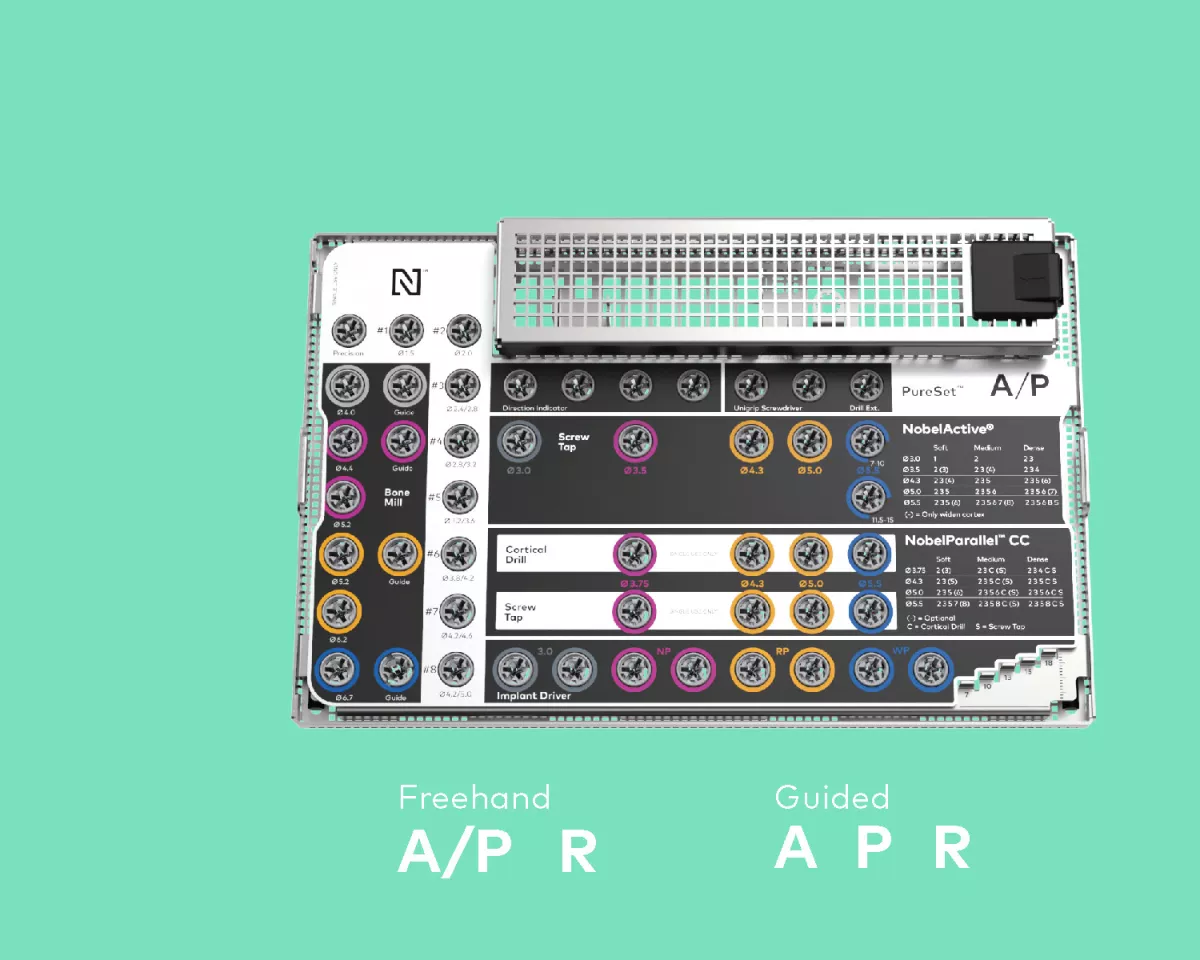 Dedicated PureSet Basic kit for prosthetics
Discover the Prosthetic PureSet Basic kit, an all-in-one solution in pocket-size dimensions. It features a complete set of components for tightening clinical and prosthetic screws to their correct torque values.
PureSet Trays Instructions For Use
Important information and step-by-step instructions to help guide you through the reprocessing and sterilization procedure from start to finish.
Questions about PureSet Trays?
If you would like additional information, more details, or have specific questions about the PureSet Trays, click the link below.
"The new PureSet Trays are a big step forward. The design is modern and the combination of NobelActive and NobelParallel CC into one single tray is a great improvement, helping my team save valuable time."
References
See Instructions For Use for full prescribing information, including indications, contraindications, warnings and precautions. 
* PureSet Trays are made of stainless steel except for the PureSet plates and grommets.
Nobel Biocare. Data on File.