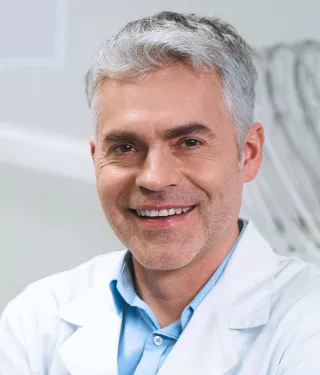 creos™ syntogain
Biomimetic bone graft substitute for efficient regeneration.1
A biocompatible synthetic porous (bone) substitute, with a multidirectional interconnected porous structure, similar to that of human cancellous bone, designed for use in periodontal, oral and maxillofacial surgery.
What makes the difference?
creos™ syntogain is the latest generation of synthetic bone graft. Its advanced manufacturing process1 in an aqueous environment and at low temperature enables to get a bone graft with key differentiators.
UNIQUE COMPOSITION OF THE MATERIAL1,7,8
80% of Calcium Deficient Hydroxyapatite (CDHA) and 20% of BTCP (beta-tricalcium phosphate).
---
MICROSCOPIC SURFACE MADE OF NANOCRYSTALS1,9
High specific surface area1,10,11 and high microporosity1,12. 
---
creos™ syntogain demonstrated non-inferiority when compared to the reference DBBM in terms of dimensional preservation of the alveolar ridge
In one of the largest randomized clinical trials (RCT) performed in dental bone regeneration15, 102 patients were randomized to receive bone augmentation using creos syntogain or the reference deproteinized bovine bone matrix (DBBM). Six months post grafting, the mean bone change in width and height was respectively -1.78% and 1.35% for creos syntogain (n=42) and -2.16% and 2.99% for the reference DBBM (n=41). The differences between the two materials were not statistically significant. The mean implant insertion torque was 36.2 Ncm at sites regenerated with creos syntogain and 35.1 Ncm at sites regenerated with the reference DBBM. For creos syntogain, 71.1% of the implants were placed with an insertion torque above 35 Ncm and 62.8% for the reference DBBM.
The bone is stable and it maintains the volume of the defect.2 When compared to reference product (DBBM), no statistically significant difference in the vertical and buccolingual dimensional change has been observed.15
creos syntogain Instructions For Use
Important information on, and instructions for, creos syntogain.
Questions about creos syntogain?
If you would like additional information, more details, or have specific questions about creos syntogain, click the link below.
When is creos syntogain used?
The solution is able to cover indications from the most common to the most challenging.
Further indications may include:
Vertical and horizontal ridge augmentation  
Bone dehiscences and fenestrations around implants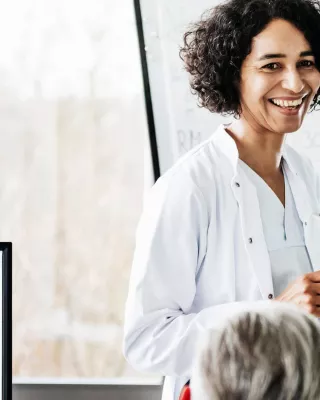 Find a course on hard and soft tissue management
References
See Instructions For Use for full prescribing information, including indications, contraindications, warnings and precautions.
1. Hoornaert A, Maazouz Y, Pastorino D, et al. Vertical Bone Regeneration with Synthetic Biomimetic Calcium Phosphate onto the Calvaria of Rats. Tissue Eng Part C Methods. 2019 Jan;25(1):1-11. doi: 10.1089/ten.TEC.2018.0260. PMID: 30501579.
2. Raymond Y, Pastorino D, Ginebreda I, et al. Computed tomography and histological evaluation of xenogenic and biomimetic bone grafts in three-wall alveolar defects in minipigs. Clin Oral Investig. 2021 Dec;25(12):6695-6706. doi: 10.1007/s00784-021-03956-y. Epub 2021 May 1. PMID:33931811.
3. Data on file: Granules handling Voice of Customer from 2017-2018 + GKEM Handling Questionnaires Results from 2022.
4. Data on file: Milestone 2 report (chapter 2.5.1)
5. Henkel KO, Gerber T, Lenz S, Gundlach KK, Bienengräber V. Macroscopical, histological, and morphometric studies of porous bone-replacement materials in minipigs 8 months after implantation. Oral Surg Oral Med Oral Pathol Oral Radiol Endod. 2006 Nov;102(5):606-13. doi: 10.1016/j.tripleo.2005.10.034. Epub 2006 May 19. PMID: 17052636.
6. Weibrich G, Trettin R, Gnoth SH, et al. Bestimmung der Größe der spezifischen Oberfläche von Knochenersatzmaterialien mittels Gasadsorption. (Alternate title: Analysis of the size of the specific surface area of bone regeneration materials by gas adsorption). Mund Kiefer GesichtsChir (2000) 4:148-152 Springer-Verlag 2000.
7. Barba A, Diez-Escudero A, Espanol M, et al. Impact of biomimicry in the design of osteoinductive bone substitutes: nanoscale matters. ACS Appl. Mater. Interfaces 2019. DOI:10.1021/acsami.8b20749.
8. Data on file: Mimetis XRD analysis report using the RIR quantification method. Medical device composition certificate.
9. Barba A, Diez-Escudero A, Maazouz Y, et al. Osteoinduction by foamed and 3D-printed calcium phosphate scaffolds: effect of nanostructure and pore architecture. ACS Appl. Mater. Interfaces 2017.DOI:10.1021/acsami.7b14175.
10. Sadowska JM, Guillem-Marti J, Montufar EB, Espanol M, Ginebra MP. * Biomimetic Versus Sintered Calcium Phosphates: The In Vitro Behavior of Osteoblasts and Mesenchymal Stem Cells. Tissue Eng Part A. 2017 Dec;23(23-24):1297-1309. doi: 10.1089/ten.TEA.2016.0406. Epub 2017 Feb 21. PMID: 28107811.
11. Data on file: Milestone 2 study (page 18)
12. Ginebra MP, Espanol M, Maazouz Y, Bergez V, Pastorino D. Bioceramics and bone healing. EFORT Open Rev 2018;3 DOI: 10.1302/2058-5241.3.170056.
13. Data on file: Clinical cases from 2022.
14. Rufino Senra M, de Fátima Vieira Marques M. Synthetic Polymeric Materials for Bone Replacement. J. Compos. Sci. 2020,4, 191;doi:10.3390/jcs4040191.
15. Ginebra Cairó I., Roig Cayón M., Velasco-Ortega E. et al., Biomimetic synthetic bone graft in alveolar ridge preservation: 1-year RCT results, Abstract N°EAO-647 EAO Geneva 2022.