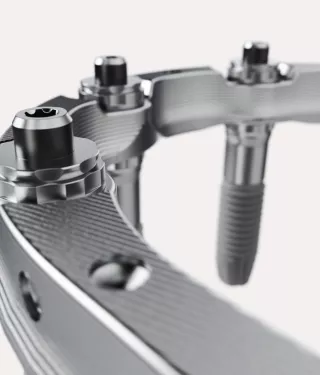 Trefoil™
The revolution in full-arch restoration. 
Definitive, fixed, full-arch solution in one day.*
Treating more patients better
The Trefoil system offers a high-quality, efficient, fixed solution for more edentulous patients and patients with failing dentition.1-3
A revolutionary fixed solution
The Trefoil system is a breakthrough in efficiency for treating the mandible.4,5 The pre-manufactured bar with a unique fixation mechanism can adjust to compensate for inherent deviations from the ideal implant position.1 That makes definitive teeth in a day a viable choice for more patients.*
Three ways the Trefoil system reduces chair time:
Pre-manufactured definitive bar with an acrylic prosthesis
A straightforward prosthetic workflow
Reduced restorative componentry due to compensation mechanism5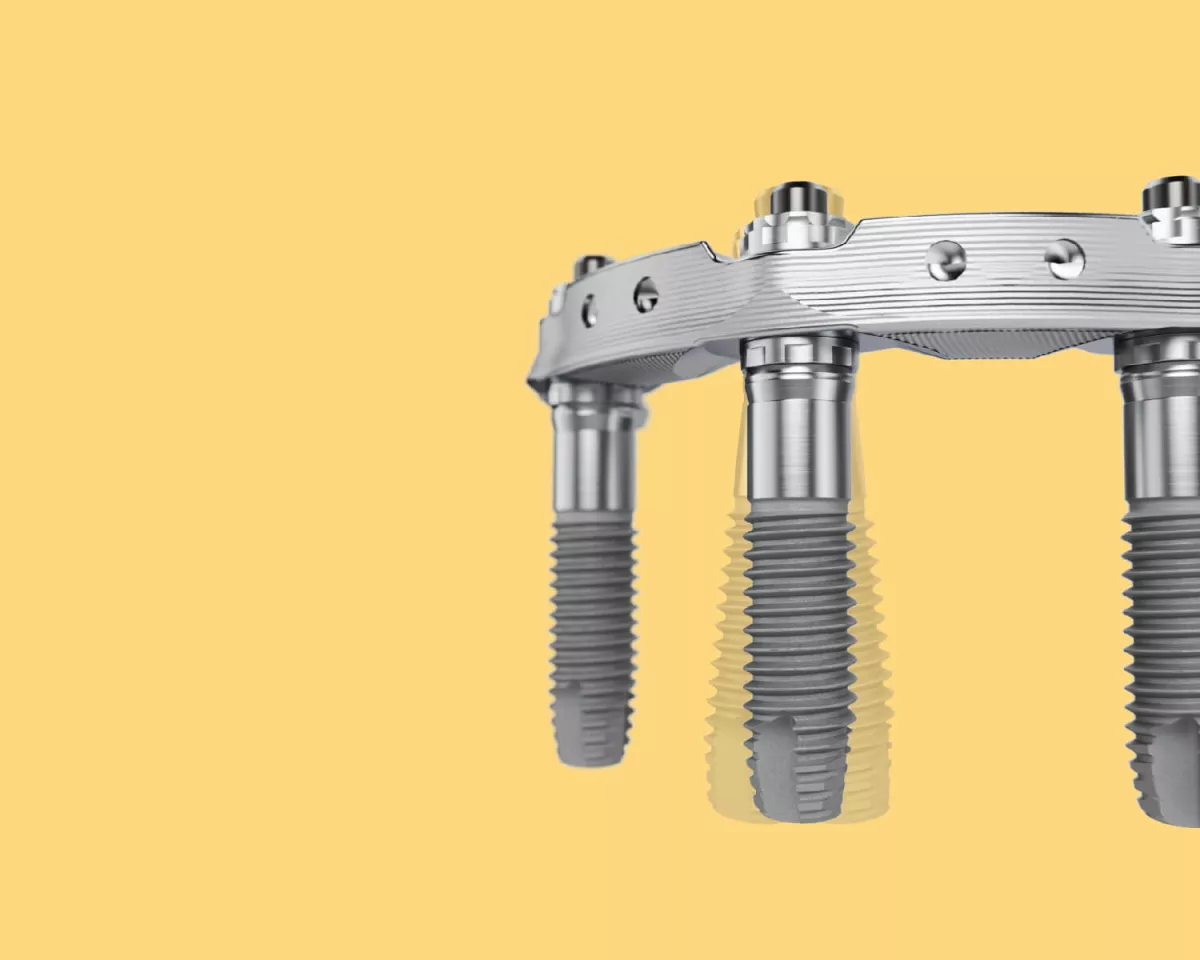 Simplified prosthetic workflow with pre-manufactured titanium bar anatomically designed for the natural arch of the mandible.
The Trefoil Bar simplifies the creation of the definitive acrylic prosthesis – saving substantial time for the restorative clinician and the lab.
The integral Trefoil Implant combines the proven parallel-walled design, a machined soft-tissue collar, and a conical connection.
Surgical workflow with template-guided surgery.
Definitive teeth in a day*
---
Quality solution with a 97.5% implant survival rate at 1 year4
---
Offer additional treatment options to your patients2
---
Trefoil Instructions For Use
Important information and step-by-step instructions to help guide you through the Trefoil procedure from start to finish.
Questions about Trefoil?
If you would like additional information, more details, or have specific questions about the Trefoil system, click the link below.
"The Trefoil system embodies the Nobel Biocare objective – treat more patients better. With this improved efficiency comes the opportunity to bring the benefits of osseointegration to a whole new patient population."
Clinicians: Frank J Tuminelli DMD FACP, Jay Neugarten DDS MD, Ralph Epstein DDS, Ben Brovnick CDT MDT, Steve Pigliacelli CDT MDT

Clinician: Dr. Glen Liddelow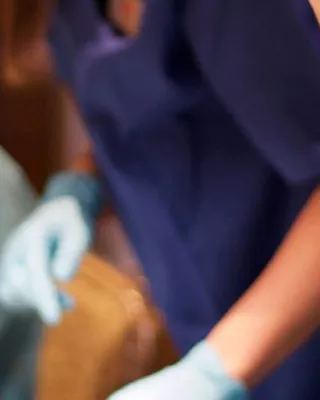 Find a course on full-arch rehabilitation
References
See Instructions For Use for full prescribing information, including indications, contraindications, warnings and precautions.
*Depending on clinician preference and close cooperation with the laboratory.
Karl M, Carretta R, Higuchi KW. Passivity of fit of a novel prefabricated implant-supported mandibular full-arch reconstruction: a comparative in vitro study. Int J Prosthodont 2018;31(5):440–442.  
Read on PubMed
Higuchi K, Liddelow G. An innovative implant-supported treatment for the edentulous mandible: case report. Int J Oral Maxillofac Implants 2019;34(2):e13-e16. 
Read on PubMed
Nobel Biocare. Data on File.
Higuchi K, Davo R, Albanese M, et al. Clinical evaluation of a prefabricated full‐arch framework on three implants in the mandible. Clin Oral Impl Res 2018;29(Suppl 17):78.  
Read the abstract
Higuchi K, Davó R, Liddelow G, et al. An adaptive prefabricated full‐arch framework on three implants in the mandible: preliminary results. Clin Oral Impl Res 2017;28(Suppl 14):169. 
Read the abstract
Carretta R, Geisendorf M, Spinnler A, et al. A novel prefabricated final fixed solution for the edentulous mandible. J Dent Res 96(Spec Iss A):3348, 2017 (www.iadr.org).
Read the poster