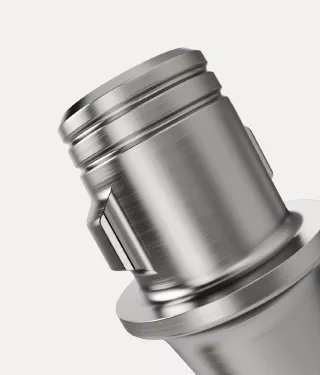 Universal Base
Abutments, made your way.
Versatility you can base your success on.
Choose authentic components
The whole system from the implant and the clinical screw to the Universal Base are tested together. This ensures all the components you receive work together – an important foundation for long-term system performance.1
Versatility you can base your success on
Create quality abutments for Nobel Biocare implants using whichever workflow you prefer. Press-on techniques, wax-ups or CAD/CAM – the choice is yours. Whatever the method, the Universal Base is the direct way into restoring implants.1
Design flexibility with two margin heights available for implant and base level Universal Abutment
Laser marked for easy confirmation that you're using an original
Universal Base Instructions For Use
 Important information and step-by-step instructions to help guide you through the Universal Abutment procedure from start to finish.
Questions about Universal Base?
If you would like additional information, more details, or have specific questions about Universal Base, click the link below.
Clinician: Dr. Giacomo Fabbri
References
See Instructions For Use for full prescribing information, including indications, contraindications, warnings and precautions.  
Nobel Biocare. Data on File.